Pink Out SW Iowa
Raising funds to help benefit breast health services provided by Methodist Jennie Edmundson Hospital and Methodist Physicians Clinics in Iowa.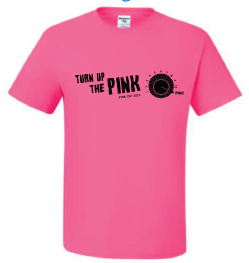 Methodist Jennie Edmundson Hospital's Breast Leadership Team and the Jennie Edmundson Hospital Foundation have teamed up to provide the community with education and awareness in its fight against breast cancer. Your participation is crucial! Funds from the sale of the 2023 shirts will be used to provide mammograms to Methodist Jennie Edmundson uninsured and underinsured patients. 
OCTOBER 2023 PINK OUT EVENTS
Friday | October 13
COUNCIL BLUFFS PINK OUT

  Join Methodist Jennie Edmundson Hospital and Council Bluffs businesses as we go Pink!  Wear your pink on Friday, Oct.13th, to show your support for breast cancer awareness!
Saturday | October 14 
SAVE THE TWINS POKER RUN

 10:00 am - 4:00 pm at Loess Hills Harley Davidson. Join us to support breast cancer awareness. Click HERE for more information about the poker run. 
Loess Hills Harley Davidson is located at 57408 190th St, Pacific Junction, IA 51561
PINKERCISE at Jazzercise in Council Bluffs. Classes run from 7:30 am to 11:00 am. Proceeds from this event will support the Methodist Jennie Edmundson Hospital Breast Health Center in our continued efforts to provide FREE breast screenings, educational opportunities and continued breast health awareness in our communities.
Click HERE to register for Pinkercise!
7:30am - 8:15am Cardio Sculpt - Caitlin and Cassie
8:30am - 9:15am Power Sculpt - Tara and Darla
9:30am - 10:15am Sculpt - Lorraine and Matthew
10:30am - 11am Stretch - Tara
Jazzercise is located at 301 W Broadway, Suite 102, Council Bluffs, IA 51503.
Wednesday | October 18
GLENWOOD PINK OUT

at Mills County Museum - Bras and Bingo! Design a bra that tells a story, shares inspiration or shows your creativity, and enter it into the Best Design contest! Doors open at 5:00 pm | Voting begins at 6:00 pm | Bingo begins at 6:30 pm.
Mills County Historical Museum is located at 20 Lake Dr, Glenwood, IA 51534
Friday | October 20
MALVERN PINK OUT

  

Be on the lookout for painted windows and specials all across town!
CALL US FOR MORE INFO OR TO TELL US ABOUT A PINK-OUT EVENT IN YOUR COMMUNITY AT (712) 396-6340.
Pink Out Shirt & Logo Sponsors
Angels Care Home Health
Black Hills Energy
Bluffs Family Dentistry
Cobalt Credit Union
Council Bluffs Surgical Associates
Doll Distribution
First Interstate Bank
Frontier Savings Bank
Glenwood State Bank
Graham Group, Construction Division
Grease Monkey
Harrah's Council Bluffs
Heartland Oncology & Hematology
Homestyle Laundry
Leach Camper Sales
Loess Hills Harley Davidson
Malvern Bank
McMullen Ford
Miller Orthopedic
Methodist Physicians Clinic - Glenwood and Malvern
Methodist Physicians Clinic - Midwest GI
ServiceMaster Restore by Schmader
Simply Cleaner