Pink Out SW Iowa
Raising funds to help benefit breast health services provided by Methodist Jennie Edmundson.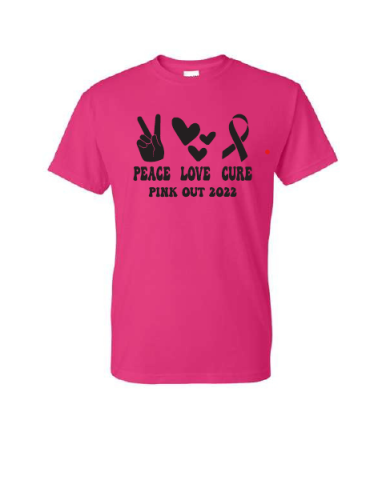 Methodist Jennie Edmundson Hospital's Breast Leadership Team and the Jennie Edmundson Hospital Foundation have teamed up to provide the community with education and awareness in its fight against breast cancer. Your participation is crucial! Funds from the sale of the 2022 shirts will be used to provide mammograms to Methodist Jennie Edmundson uninsured and underinsured patients. * Please note that shirts will be available for pick up in the Volunteer Services Department. Pick up date to be scheduled for early October.
OCTOBER 2022 PINK OUT EVENTS
Saturday | October 8
SAVE THE TWINS POKER RUN 9:00 am - 4:00 pm  Join us at Loess Hills Harley-Davidson starting at 9:00 am for pancakes and registration. Then get ready to ride! Poker Run starts at 10:00 am! Loess Hills Harley-Davidson is located at 57408 190th St, Pacific Junction, IA 51561 (I-29 At Exit 35)
Friday | October 14
COUNCIL BLUFFS PINK OUT  Join Methodist Jennie Edmundson Hospital and Council Bluffs businesses as we go Pink!  Wear your pink on Friday, Oct. 14th to show your support for breast cancer awareness!
Saturday | October 15
PINKERCISE  7:30 am to 12:00 pm.  Save the date for a booty shaking good time at Jazzercise Council Bluffs. 4 classes available! Click here to sign up today! Jazzercise Council Bluffs is located at 301 W Broadway Suite 102, Council Bluffs, IA 51503
Saturday | October 15
BINATIONAL HEALTH WEEK  11:00 am - 2:00 pm  In celebration of Binational Health Week, All Care Health Center is partnering with the Mexican Consulate of Omaha to host the annual family health fair!  Free services include clinical breast exams, enrollment assistance, food application assistance, flu shots, diabetes screening and more. All Care Health Center is located at 902 S. 6th St. Council Bluffs, IA
Monday | October 24
GLENWOOD PINK OUT  5:30 pm - 7:30 pm  Join us at Parea Cocktail Lounge at 5:30 pm. The Glenwood Proclamation will be read along with guest speaker Dr. Zlomke. Parea Cocktail Lounge is located at 430 1st St, Glenwood, IA 51534
Wednesday | October 26
MALVERN PINK OUT  

Be on the lookout for painted windows and specials all across town!
CALL US FOR MORE INFO OR TO TELL US ABOUT A PINK OUT EVENT IN YOUR COMMINITY AT (712) 396-6340.
Pink Out Shirt | Logo Sponsors
Arrow Towing Company
Black Hills Energy
Bluffs Family Dentistry
Cobalt Credit Union
Doll Distributing LLC
Edwards Auto Group
First Interstate Bank
Frontier Savings Bank
Glenwood State Bank
Highline Warren
The Graham Group, Inc
Heartland Oncology & Hematology
Home Style Laundry & Dry Cleaning
Leach Camper Sales
Loess Hills Harley Davidson
Malvern Bank
McMullen Ford
Methodist Physicians Clinic Council Bluffs
Miller Orthopedic
ServiceMaster Restore by Schmader
Simply Cleaner LLC

Pink Out Shirt | Named Sponsors
American National Bank
Angels Care Home Health
Availa Bank
Council Bluffs Chamber of Commerce
Daily Nonpareil
Diagnostic Radiology
First National Bank of Omaha
Harrah's Council Bluffs/Horseshoe Council Bluffs
Jazzercise
MPC - Glenwood
MPC - Malvern
Sideline Sports & Tees