Pink Out SW Iowa
Raising funds to help benefit breast health services provided by Methodist Jennie Edmundson.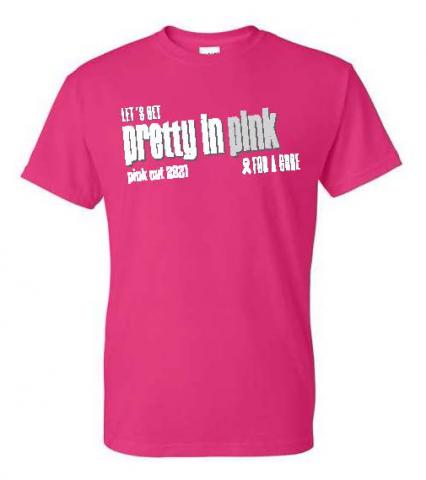 Methodist Jennie Edmundson Hospital Breast Leadership Team and the Jennie Edmundson Foundation have teamed up to provide the community with education and awareness in its fight against breast cancer. Your participation is crucial! Funds from the sale of the 2021 shirts will be used to provide mammograms to Methodist Jennie Edmundson and under-insured patients. Shirts will be available for pick up in the Volunteer Services Department on Tuesday, October 5th.
Pink Out Shirt Logo Sponsors
Black Hills Energy
Bluffs Family Dentistry
Cobalt Credit Union
Council Bluffs Chamber of Commerce
Doll Distributing LLC
Frontier Savings Bank
Glenwood State Bank
Heartland Oncology & Hematology
Highline Warren
Home Style Laundry & Dry Cleaning
Leach Camper Sales
Jennie Edmundson Foundation
Malvern Bank
McMullen Ford
Methodist Jennie Edmundson Breast Health Center
Miller Orthopedic
Methodist Physicians Clinic
ServiceMaster Restore by Schmader

Pink Out Shirt Named Sponsors
American National Bank
Angels Care Home Health
Availa Bank
Diagnostic Radiology
First National Bank of Omaha
The Graham Group
Harrah's Council Bluffs/Horseshoe Council Bluffs
Jazzercise
MPC - Council Bluffs
MPC - Glenwood
MPC - Malvern
MPC - Surgical Associates
Sideline Sports & Tees
Pinkercise with Council Bluffs Jazzercise
Get ready to dance your heart out for the cause! Join us on October 16, 2021 for 2 heart pumping, booty shaking 90-minute Jazzercise classes with your favorite team of instructors. Each class will feature all our super fun music and dance moves to support Methodist Jennie Edmundson Breast Health Center. The proceeds will be used to cover the cost of treatments for the uninsured and under-insured in our area.
7:30am-9:00am - Class with Tara, Matthew and Lorraine
9:30am-11:00am - Class with Darla, Maranda and Caitlin
Cost: $20 per class – in studio and online. If attending virtually, the password for each class will be emailed to you the morning of the event.
So, gather your girlfriends, family, anyone you can to join us and raise as much as we can to support this cause that affects us all. Everyone is welcome!

Council Bluffs Jazzercise
301 W Broadway Suite 102
Council Bluffs, IA 51503

Online registration is now closed. Please arrive early to your class if you still need to register!