School of Nursing
Continuing the Tradition with Your Donation
To give to the Alumni Association Scholarship Fund, please contact us at (712) 396-6040 or visit our online donation page.
Historical Timeline
The Jennie Edmundson Hospital School of Nursing was fully-accredited through the National League for Nursing and approved by the Iowa Board of Nursing until it closed in June 1997. Significant events that occurred during the school's history are highlighted below:
1891: First Diploma Granted by the Women's Christian Association to Leona Johnson.
1894: Articles of Incorporation amended; two-year program instituted
1904-1905: Changed to three-year program.
1906: Nine nurses graduated from Council Bluffs - General Hospital, 9th Street & 6th Avenue.
1912: Alumnae Association Organized.
1915: Corner stone laid for nursing home.
1918: Mary E. Nesbitt listed as Director on ANA list of schools.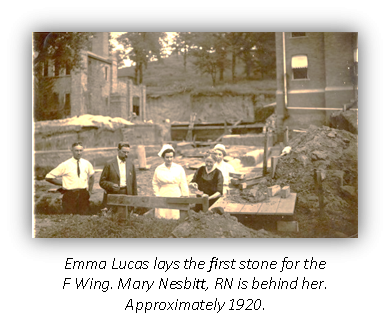 1920: Pauline Martignoni listed as Director on ANA list.
1924: First full-time instructor employed – Dorothea Ely, Director of Nursing.
1927: Addition to Nursing home completed.  Lilly B. Staff, Director.
1931: Isabella W. White, Director.
1932: Louise Holmes, Director.
1935: Graduates of program not granted reciprocity in Nebraska; Sena Brandt, Director.
1939: Sarah Langman, Director.
1940: Jessie Carol Wortman, Director of Nursing; sciences taught at Omaha University.
1941: Class graduating this year given reciprocity in Nebraska; apparently this problem was resolved in 1942.
1944: Psychiatric Nursing affiliation at Lutheran Hospital in Omaha.
1945: Articles of Incorporation amended from "training school" to "school of nursing".
1952: Four (4) year program established in connection with University of Omaha; the Psychiatric Nursing Affiliation went to Knoxville.
1952: Temporary accreditation by national League for Nursing (NLN).
1956: June, request to discontinue four-year program and return to traditional diploma school.
1959: NLN – Full accreditation granted.
1965: NLN – Accreditation continued, next visit 1971; Educational Television Courses in Anatomy and Physiology added.
1967: New curriculum introduced to Class of 1969; Practical Nursing surveyed by Nursing Service; Mrs. Margaret Wheeler appointed Director of School.
1967: JEH School of Nursing was one of the first in the area to adopt the academic year, enabling students to have summer vacation similar to general education. Iowa Western Community College provided general education classes to the Jennie nursing students.
1968-1997: Marjorie Matzen, RN, BSN, MSN became the Assistant Director in 1968 and was promoted to the Director position in 1979 where she continued until the closing of the school.
1989: JE School of Nursing celebrated its Centennial year.
1994: Jennie Edmundson Hospital became an affiliate of the Nebraska Methodist Health System; through this affiliation, the JEH School of Nursing aligned with Nebraska Methodist College and a 2 year Associate Degree Program was formed; The first class of students in the Jennie Edmundson Associate Degree Nursing Program of Nebraska Methodist College started the fall of 1994.
1997: Jennie Edmundson Hospital School of Nursing diploma program's last nursing class graduated; June 1997 the diploma program officially ended.