Jennie's Healing Garden
Your generosity matters!
Call (712) 396-6040 or visit our online donation page today and make your gift today.
"Garden of Hope"
Methodist Jennie Edmundson Hospital is committed to pushing the envelope in health care. We are continuously seeking out ways to better serve our community. Inspired by our dear friend and colleague, Jane Justice, the Healing Garden is an opportunity to do just that. Jennie's Healing Garden is home to trees, plants, flowers and other naturally inspiring scenery designed to offer a quiet oasis, a respite, and a place of solitude for staff, patients and families. Not only does the garden provide a place where we can reduce stress, increase energy, and restored hope, Jennie's Healing Garden is also an opportunity to honor someone.
The "Garden of Hope" dedication ceremony was held to showcase the garden and thank the donors and hospital staff that made it possible. Jane's parents - Clifford and Frances, and her brother John, were on hand for this very special ceremony.
Healing Garden Stone Pavers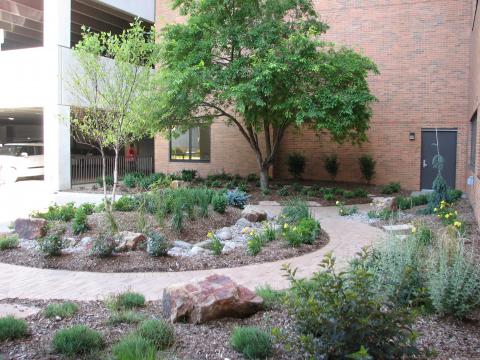 Beautiful, engraved, stone pavers form the walkway of the garden, and each paver is personalized with a message to be read by those who seek comfort and solace. Some of the pavers celebrate the birth of a child, others memorialize a loved one and still others commemorate or honor an individual or special event. 
Jennie's Healing Garden is supported solely by donations, and you can help us grow. Leave a legacy and become part of the healing by giving a gift of hope.
If you would like to support the Healing Garden, please complete this form and return it to the Jennie Edmundson Foundation.