Hidden Halo
Your generosity matters!
Call (712) 396-6040 or visit our online donation page today and make your gift today.
At Methodist Jennie Edmundson Hospital, leading-edge care and compassion go hand in hand. Our patients often express their gratitude for this excellent care in a variety of ways – through their kind words, smiles, letters of thanks and financial contributions. It's certainly a rewarding feeling for our highly-trained healthcare professionals to know they were there when patients and families needed them the most.
Perhaps it was a kind word or a smile that brought you or your family member comfort. It could have been a life-saving procedure or a visit from a volunteer during your hospital stay. We thank you for choosing Methodist Jennie Edmundson Hospital for your care and invite you to send a heartfelt message to anyone who made your stay pleasant. With the Grateful Patient and Family Program patients and families have the opportunity to recognize a specific person or a department with a written note. Share your story with us today. If you would like to make a tribute gift, you do so on our donate page. 
Thank you to the Progressive Care Unit for taking such great care of me. You touched my life in so many ways. Everyone took extra steps to make me feel comfortable and the professionalism and attention to detail were impeccable. Everyone went above and beyond! Just saying thank you is not nearly enough. Thank you for everything.
How Your Gifts of Gratitude Help the Hospital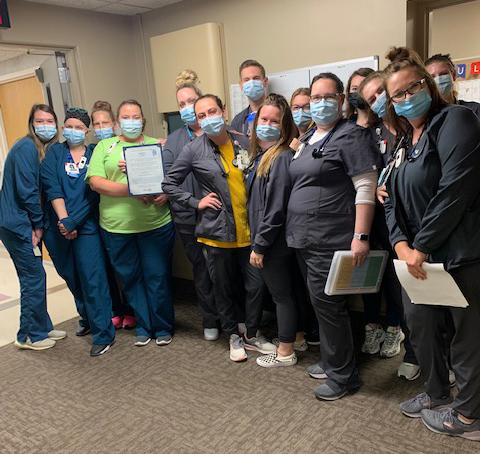 Gifts from the grateful patients and families program allow the Foundation to:
Assist patients who are uninsured and/or underserved with medical expenses
Provide free medical information through the Family Resource Center
Advance and support health care delivery and patient care
Support current programs and services at Methodist Jennie Edmundson Hospital
Underwrite the cost of new equipment and technology 
Nominate a Care Giver
To nominate your caregiver for this award, please complete the form below:
Donations Are Appreciated
You can call (712) 396-6040 to make a credit card payment or checks can be made payable to
Jennie Edmundson Foundation and mail to our office:
Jennie Edmundson Hospital Foundation
933 East Pierce St.
Council Bluffs, IA 51503