Employee Caring Campaign
Provides much-needed support to programs that benefit our patients and their families, employees, volunteers and members of our community.
Your generosity matters!
Call (712) 396-6040 or visit our online donation page today and make your gift today.
As an employee of Methodist Jennie Edmundson Hospital, each day, you make a difference in the lives of people throughout our community. Your compassion and commitment demonstrate the truth of our motto that Jennie Cares. Choosing to become a member of the employee caring campaign is an opportunity to take this spirit of caring to the next level by showing that you believe in our hospital's mission strongly enough to support it above and beyond your everyday work. 
It is a team effort that requires the work of many to help just one. Knowing that each patient touched by our work here goes on to touch the lives of their friends, family, and neighbors, allows us to truly feel the impact of our care. We appreciate your dedication to assisting others, and we hope you will join us as a member of the employee giving campaign.
Fill out your Caring Campaign online pledge form to make your donation today, or download a pledge form to print and fill out later.
2024 Campaign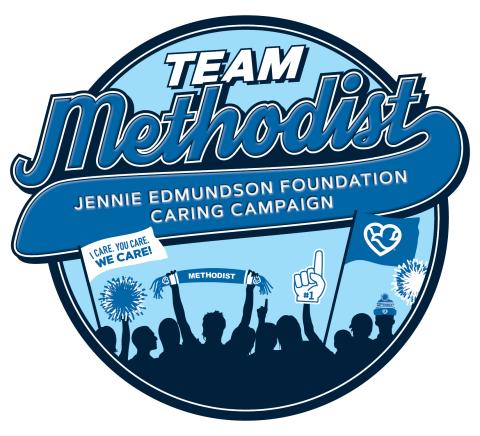 The Jennie Edmundson Foundation, along with our Employee Ambassadors, want to thank each of you for the amazing support and generosity you have shown to the Employee Caring Campaign. Funds raised each year benefit patients and their families, and we couldn't do that without you! We look forward to a wonderful year-end of giving and hope for 100% employee participation this year, and that starts with our compassionate "Team Jennie" staff!
Greatest Need: Cardiovascular Suite
This year, our greatest need is a new cardiovascular suite. By investing in new technology, we support our cardiologists, vascular surgeons, interventional radiologists, and clinical teams, as well as our patients. The new suite will contain two state-of-the-art cath labs, more space to improve patient privacy, and a comfortable waiting area for families and loved ones. 
Your donation will help us provide the very best facility for our families and help us make this project a success! 
Did you know? 
While nationally, the standard is 90 minutes from the door-to-balloon catheterization to open a blockage, our Jenni Edmundson team takes only 50 minutes. Our Cath Lab team is the best of the best! 
Thank You for Caring!
Thanks to people like you who are willing to invest in the future, we can continue a proud tradition of offering excellent medical services to our community, regardless of a patient's ability to pay. 
You can select the area your gift benefits from any of these areas:
Greatest Need: Cardiovascular Suite
Behavioral Health
Cancer Care
Caring Coworkers Fund (Formerly Employee Crisis Connection)
Caring for Our Communities
Charitable Patient Care
Employee Resilience
Medi-Van Services
Scholarships
Women's Services
Haven't made your gift yet? It's easier than ever! Either turn in your paper pledge form to the JE Foundation team or complete your pledge online using the MHS Intranet by clicking 'Caring Campaign: Huddle Up to Help Others', to select your affiliate location.
Your pledge earns you a FREE! Jennie Edmundson Foundation t-shirt, and automatically enters you into our grand prize drawing on Oct. 27th for your chance to win a $150 gift card!