School of Nursing
Your generosity matters!
Call (712) 396-6040 or visit our online donation page today and make your gift today.
History
1889-1997
The Women's Christian Association was organized in 1884 and incorporated in 1886 when the hospital was founded. Early activities of the group include visiting the sick, feeding the poor and gathering for regular prayer meetings. Although the minutes of the first years of the organization are sketchy, it is believed the School of Nursing had its beginnings during the period of 1887 to 1889. The first time a name can be linked to a diploma was in 1891.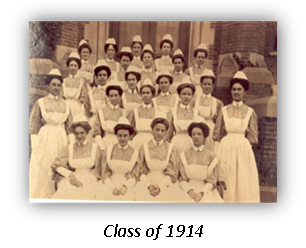 Early requirements for a student nurse were a certificate of good moral character, a fair knowledge of English grammar, reading and writing. Each student also had to bring with her a napkin ring, black silk stockings and plain, unadorned underwear. Lectures were given twice a week by physicians and were attended by all first and second-year students. After completion of the two-year course, students were examined by a Board of Physicians on their knowledge and skills.
One of the most notable characteristics of the Jennie Edmundson School of Nursing was its tradition of commitment to the community and the world. Graduates answered the call to serve their county in both World Wars. In WWI, Dr. Donald McCrae led a group of Jennie Edmundson nurses and physicians to France where they formed Unit K. During WWII, the School was accepted as part of the U.S. Cadets Corps established by the Bolton Act and helped prepare nurses for war time duty.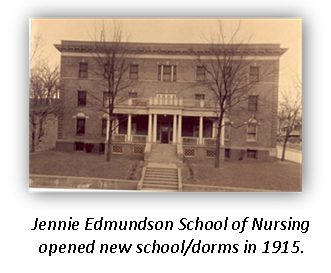 The School continued to grow in all ways since its earliest days. Records show a total of 1777 nursing students graduated from the Jennie nursing program. Jennie nurses live in almost all 50 states and in some foreign countries. The dormitory, built in 1915, was torn down in 1979 and fully furnished apartments close to the hospital were utilized for student housing.
The School was continuously accredited by the National League for Nursing since 1959. The program was shortened to three academic years in 1968 and in later years began attracting the more non-traditional students. The number of male students increased in later years when a nursing career became more attractive financially and also offered areas where a nurse could grow professionally.