Women and Newborns
With your help we raised nearly $1.2 million to help make the Anne Elizabeth Nelson Women and Newborns Center possible.
Your generosity matters!
Call (712) 396-6040 or visit our online donation page today and make your gift today.
Anne Elizabeth Nelson Women and Newborns Center
In the past several years, there has been an increase in maternal health challenges in Iowa, which include many rural labor and delivery units closing, leaving women with limited options in rural areas for care. Council Bluffs and the surrounding area also have unique challenges that accompany the closing of these OB-GYN units. Our communities are diverse, close knit and representative of many distinct social and economic groups. As healthcare providers, we must stand ready to serve across the spectrum of diversity that is our communities.
Methodist Jennie Edmundson Hospital has heard the need and has responded. With the opening of the Anne Elizabeth Nelson Women and Newborns Center at Methodist Jennie Edmundson Hospital, we are bringing first rate medical care to women in Western Iowa. Mothers can be served with skill and pride close to home!
We are so grateful to the community who helped make this possible.
Welcome to the World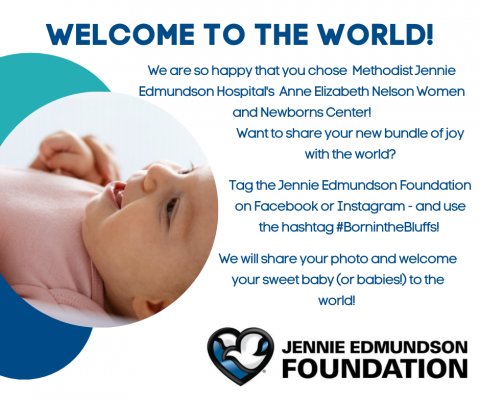 Have you had your baby at the new Women & Newborns Unit? Would you like to share your new bundle of joy with the world? Tag the Jennie Edmundson Foundation on Facebook or Instagram and use the hashtag #BornintheBluffs! We will share your photo and welcome your sweet baby (or babies!) to the world!
PLEASE NOTE: By choosing to post a photo on Methodist Health System or Jennie Edmundson Foundation's Facebook page, you acknowledge that it becomes subject to public access, use and visibility and that Methodist Health System and Jennie Edmundson Foundation may use this information for internal and external promotional purposes. If you do not wish to have this information used or shared, please do not post on this page.
Additional Information
To learn more about our birthing services, visit our specialty page.
Learn More