Cancer Care
Our cancer patients receive care from a highly trained, skilled medical team. Learn how you can help support cancer patients in need.
Your generosity matters!
Call (712) 396-6040 or visit our online donation page today and make your gift today.
Better Care Through Better Technology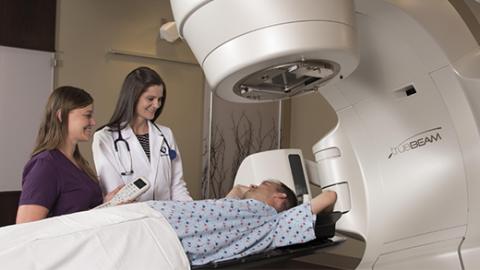 To better treat our cancer patients, our team is constantly gaining access to the most effective, cutting-edge equipment. In 2016, our community helped us upgrade our Cancer Center with a renovation and a new TrueBeam Linear Accelerator. The TrueBeam Linear Accelerator offers radiation therapists the ability to deliver a more precise dose of radiation, targeting the cancer cells while preserving healthy tissue. Since June of 2016, more than 16,000 radiation treatments have been delivered through the Linear Accelerator.
These improvements help ensure that the Methodist Jennie Edmundson Cancer Center, the only nationally accredited cancer center in southwest Iowa, continues to provide local access to superior, comprehensive care. That's our promise – care, close to home.
Helping Cancer Patients in Southwest Iowa
The Spirit of Courage Cancer Center Charitable Patient Care Fund, provides assistance to uninsured and underinsured patients who need help covering expenses associated with diagnosis and treatment of cancer. This fund assists patients by paying for medications, treatments, and deductibles as well as everyday living expenses such as groceries, rent, and gas.  Without this type of help, these vulnerable members of our community would simply forgo treatment and/or medications. You can help by donating to the fund or attending one of our Spirit of Courage events – Wheels of Courage, the Spirit of Courage Golf Tournament and the Spirit of Courage Gala. 
Each year, at the Spirit of Courage Gala, we honor cancer patients who received treatment at Methodist Jennie Edmundson. Below, hear from our four 2023 honorees discuss why they chose Methodist Jennie Edmundson Hospital for their cancer care: