COVID-19 Emergency Response Fund
Supporting those affected by coronavirus (COVID-19).
Your generosity matters!
Call (712) 396-6040 or visit our online donation page today and make your gift today.
Because of you and our incredible community we have risen to the challenge!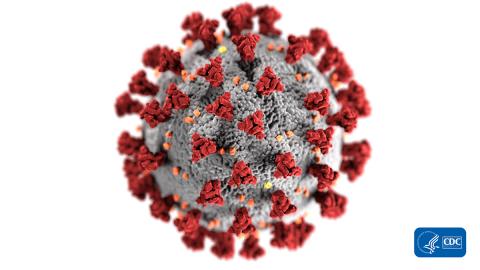 The COVID-19 Emergency Response Fund at Methodist Jennie Edmundson Hospital is successful, and we are grateful. We established the fund in response to a defining moment facing our community and are pleased to report that we are meeting that moment. Author Steven Thulon once said that "Conflict builds character. Crisis defines it." You have certainly defined that together our character is strong!
Thanks to you, we have been able to establish and implement the COVID-19 Response Fund. Together, we are protecting and equipping our vital healthcare responders with the necessary personal protective equipment (PPE) that they need to keep them, and us, safe. Together, we have secured temporary lodging for them and for our community's most vulnerable and aging who are unable to shelter at home during this pandemic and together we have established protocols for mobile showering units to keep our healthcare responders safe and to contain the spread of the virus in our community. Our collaborative work with other community, county and state health officials and partners continues, in large part because of your support.
There are many ways you can continue to help, including donating supplies, making a financial contribution, or showing your appreciation through a few kind words.
Ways You Can Help
When you stay home to help slow the spread of the disease, you are protecting yourself while helping us care for some of the most vulnerable residents of our community. 
Throughout this time of uncertainty, we ask you to continue including the Jennie Edmundson Hospital Foundation as a key part of your philanthropy. We will need your support every step of the way.
Your gift to the Jennie Edmundson Foundation's Emergency COVID-19 Pandemic Response Fund will be used to help patients and caregivers who are impacted by this disease and to address emerging areas of greatest need, including the following:
Assisting our uninsured and/or underinsured low-income patients to cover healthcare costs related to COVID-19.
Providing financial help with necessary everyday living expenses and housing for some of our most vulnerable patients who may not be able to shelter at home.
Provide financial help to support and enable our healthcare staff to sustain their resilience as they continue to provide safe, high-quality care to our patients and community.
Ensuring that we have sufficient personal protection equipment, supplies, and medical equipment to ensure that our healthcare workers will stay healthy while caring for patients.
Providing pandemic-related training and resources to our physicians, nurses, and hospital staff.
Hiring additional nurses and caregivers to care for increased numbers of patients. 
Consider making an impact by honoring our healthcare providers who are facing this challenge with confidence and grace.  Your tax-deductible gift will provide much-needed assurance to staff on the frontlines as they strive to assist patients while maintaining their own health during this unprecedented time.
If you are able to do so, we encourage you to consider making a gift today to the Jennie Edmundson Foundation's  COVID-19 Emergency Response Fund. Together we will fight the coronavirus and emerge a stronger and better community.
---
Methodist Jennie Edmundson Hospital employees have sacrificed so much in the fight against COVID-19. Our patients, families, and community members often ask about ways they can honor Methodist Jennie Edmundson staff during this unprecedented time. Throughout the month of May, we will be honoring Methodist Jennie Edmundson Hospital staff for the work that they do. Now is your chance to give back by supporting a "Health Care Hero".
Thank you to the following individuals for making a donation in honor of a Health Care Hero:
Karen Alarie in honor of Donna Alarie (Pharmacy)
Karen Allen in honor of Jennifer Nelson (4H)
Laura Andersen in honor of Michelle Whitney (ICU)
Jan Andersen in honor of Methodist Jennie Edmundson Staff
Anonymous in honor of Methodist Jennie Edmundson Staff
Anonymous in honor of Lab Department
Anonymous in honor of Radiation Oncology Department
Peggy Bammer in honor of Ellen Bammer (Respiratory Therapy)
Gloria Barrett in honor of Dr. Rachel Stearnes
John Baxter in honor of Dr. McElderry
Eric Bents in honor of Marnie Bents (Methodist Women's Hospital)
Kristen Bladt in honor of Dr. Lori Platt
Paul Blain in honor of Methodist Jennie Edmundson Staff
Patricia Boucher in honor of Lori Burbridge (Outpatient Surgery)
Irene Brucker in honor of Tammy Johnson (Breast Health Center)
Irene Brucker in honor of Michelle Kaufman (Radiation Oncology)
John Burns in honor of Kay Waters (Cardo Rehab)
Jennifer Carlson in honor of Kyle Kreger (ICU)
Lois Chandler in honor of Methodist Jennie Edmundson Staff
Mary Jo Dalrymple in honor of Methodist Jennie Edmundson Staff
Lois Dalton in honor of Dr. Lori Platt
Jan Divin in honor of Diana Dollen (ICU)
Wayne Dsyer in honor of Tatum Schlott
The Ford Family in honor of Lacie Patterson (Outpatient Surgery)
The Devereaux Family in honor of Mary Laver (Heartland Oncology and Hematology)
Donn and Susan Forslund in honor of Dr Sumit Mukherjee
Pat Gast in honor of Mary Laver (Heartland Oncology and Hematology)
Phyllis Haines in honor of the Volunteers & Foundation Department
Gary Hansen in honor of the Progressive Care Department
Jackie Holding in honor of Tami Caughey (CT-Radiology)
Amy Holman in honor of Mike Walker (Patient Care Administration)
Barbara Hough in honor of Yaney Lippold (ICU)
Barbara Hough in honor of Maddy Powell (ICU)
Barbara Hough Bonnie Hall (ICU)
Diane Hughes in honor of ICU Department
Diane Hughes in honor of Progressive Care Department
Floy Irwin in honor of Valerie Siegrist (4H)
Deanne Kruse in honor of Methodist Jennie Edmundson Staff
Gail Lambertz in honor of Methodist Jennie Edmundson Staff
Leroy A. Larsen in honor of 2B
Suzanne League in honor of Dr. McElderry
Eilene M. Lloyd in honor of Mary Jane Colburn (4H)
Brian and Brenda Mainwaring in honor of Elizabeth Becker
Brian and Brenda Mainwaring in honor of Katie Hagedorn
Brian and Brenda Mainwaring in honor of Kyle Kreger
Brian and Brenda Mainwaring in honor of Courtney Schmid
Bonnie Mansfield in honor of Tara Slevin (Volunteers & Foundation)
James and Cindy McCollester in honor of Marcy Powles (Mammography)
Nancy McCormick in honor of Methodist Jennie Edmundson Staff
George Nitcher in honor of 4H
Lonnie Papst in honor of Cardiology Department
Mary Rasmussen in honor of Tara Slevin (Volunteers & Foundation)
Evelyn Rasmussen in honor of Dan Irwin (Environmental Services)
Arnold E. Rathke in honor of Amy Waldstein (ICU)
Juana Rodriguez in honor of Methodist Jennie Edmundson Staff
Bryan and Kim Ruffcorn in honor of Shelby Ruffcorn (Respiratory Therapy)
Wenceslao De Santiago in honor of Methodist Jennie Edmundson Staff
Janis Y. Schutt in honor of Methodist Jennie Edmundson Staff
Kelly Scott in honor of Connie Bichel (MPC Council Bluffs Cardiology)
Kelly Scott in honor of Becky Bradley (MPC Council Bluffs Cardiology)
Karla Smith in honor of Amy Waldstein (ICU)
Karla Smith in honor of ICU Department
Dan and Jeanne Svatos in honor of Steve Baumert (Administration)
Cathy Todd in honor of Methodist Jennie Edmundson Staff
MJ Turpen in honor of Lara Waugh (Personnel Pool)
Ruth Vachal in honor of Volunteers & Foundation Department
Anonymous Navy Veteran in honor of Methodist Jennie Edmundson Staff
Wesley Walker in honor of Dr. Fryzek and team
Wesley Walker in honor of Dr. Brandt and team
Harry and Linda Watts in honor of Heidi Watts (Patient Care Administration)
Patricia Willadsen in honor of Cindy Engel (Occupational Therapy)
Sharon Wood in honor of Connie Bichel (MPC Council Bluffs Cardiology)