Skilled Seamstress to the Rescue
Published: Feb. 11, 2022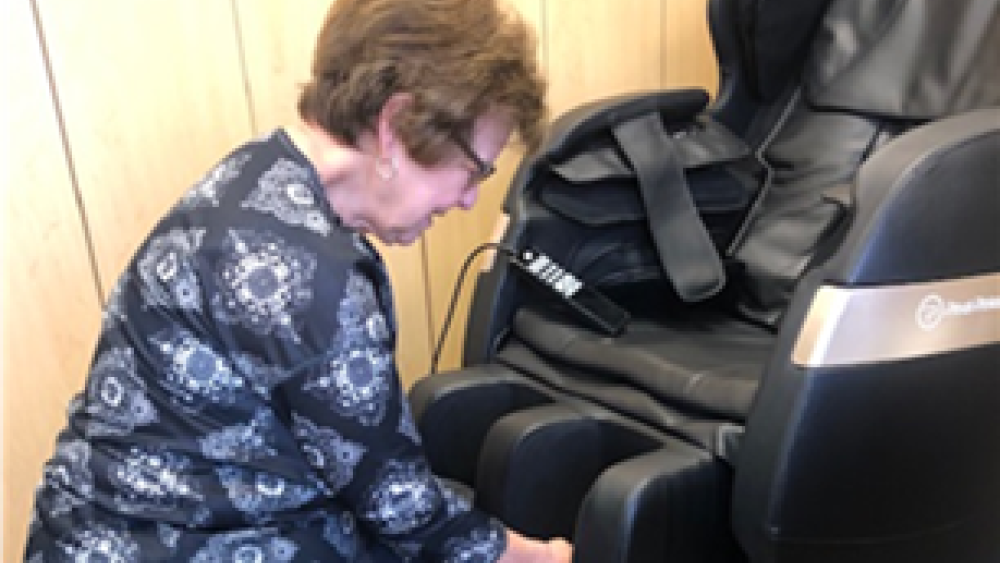 The Time Out room on the third floor of the F wing is frequented by hospital staff who need a break. It's a special room set up with two massage chairs, essential oils and other items to encourage relaxation. Thanks to our unprecedented times, it's seen its fair share of use...so much so, that the stirrup fabric on one of the massage chairs has torn.
Enter Yvonne Willadsen, a skilled seamstress and 15+ year Jennie volunteer. Yvonne responded cheerfully when she was called upon for the tedious task of repairing the fabric-enclosed stirrup.
"I'm glad I had my morning free to help," Yvonne said. "I packed up my black stretchy thread, collection of various sewing needles and headed to Jennie."
Sitting somewhat comfortably on a case of Gatorade padded with a blanket, Yvonne went to work.
"I assessed the whole project first, then gathered bits of the fabric to pin together to guide my sewing," Yvonne said. "It was a simple task, but required patience and focus."
The stirrup couldn't be removed so Yvonne's efforts were executed within about a six inch wide space that had to fit her two moving hands.
"I only stuck myself with the needle a few times," she said with good-humored nature. "But the fabric on the stirrup is repaired and looks good."